Mat Newman
October 6 2014 15:33:21
Last week a fairly significant date passed without much fanfare: The Withdrawal From Support (WFS) for some of the best desktop software ever created in Lotus 1-2-3, Lotus Organizer and the Lotus Smartsuite office package.
This - of course - followed on from the announcement that these iconic products would be withdrawn from marketing effective the 11th of June, 2013. WFM is the term used to signify that a product will no longer be available for purchase by customers. WFS means that a product will no longer receive any updates, nor will customers be able to request assistance for these products. The announcement's were made
HERE
.
Many would already have been aware that - in reality - none of these products had received any significant updates for over a decade, so the announcement made last year was merely a formal indication that their time really was up, and customers using these products should move on.
In the intervening years, IBM had forked it's own version of OpenOffice to create Lotus Symphony, before making a significant donation back to the Apache Foundation of the code behind it. The Side-bar in OpenOffice 4.* is the most visible indicator of IBM's contributions included from the Symphony code-base.
Although the retired software products will still work (and will continue to do so as long as the operating systems for which they were designed are still available) it was with a wistful grin that I remembered back to when I first started using PC's, when almost everyone of my vintage at one time was familiar with the "/" (slash) menus from 1-2-3, the spreadsheet that really proved the power of the PC in the workplace and began the PC revolution.
Then there was Organizer, the PC based Planner and Contact manager that defined what Personal Information Mangement (PIM) was all about. Over 20 years ago Organizer introduced most of the functionality required for effective personal and group co-ordination, along with tight integration into one's contact list it was possible to do anything, from planning a call, to making a call, and then recording it back into the event. Even features like "calendar overlays" and group calendars had their roots back in Organizer, a personal favourite feature of mine was the "Include" option, that enabled one to see the "tabs" from any colleague within your own Organizer folio.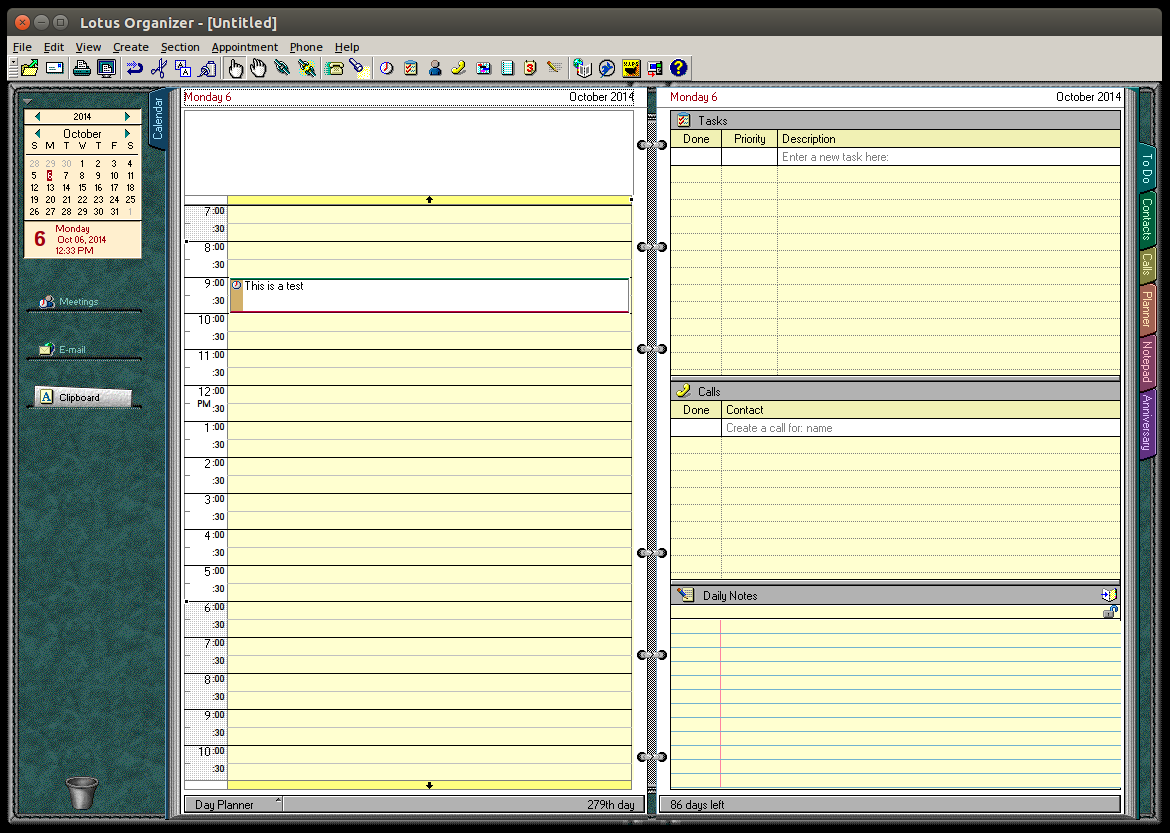 Interestingly, while opening any of these applications it's clear that anyone familiar with modern desktop software will see that actual functionality available today isn't that far advanced from what we had all those years ago with these leading applications from the Lotus Development Corporation software portfolio.
Farewell, old friends, I thank you for your many years of service.