Mat Newman
July 14 2010 22:42:17
The upcoming release of Lotus Traveler - 8.5.2 - brings new features to Nokia smart phone users that makes Lotus Notes/Domino a compelling choice for business.
For the manufacturer who is still the world-wide market share leader in mobile devices (various sources ...
wikipedia
,
electronista
, etc) the worlds leading technology company - IBM - continues to improve support for Nokia's symbian platform with enhancements to Lotus Traveler.
The Traveler client for Nokia S60 devices is available for download from a server running IBM Lotus Domino with the Traveler plug-in installed.
Nokia S60 devices include principally E, N and X -Series phones.
The Lotus Traveler client can be installed from an enabled IBM Lotus Domino server by browsing to http://yourserver/servlet/traveler on your mobile device. Once logged-in, Traveler automatically identifies supported phones and provides a link to download the appropriate client. After downloading the installer, the user provides their Lotus username, password and Traveler server, and the Traveler client begins to synchronise the data from the users Notes Mail, Calendar, To-do's and Contacts. The Installation and subsequent Synch may be performed over both a WiFi or Mobile Telephone (Cellular) network.
As a long-time mobile device user, my history includes the Mobile(Cell)/Palm/Easy-synch and Mobile/Palm/mnotes combinations, right through to the present, where I carry only one device: my trusty Nokia N97. Combined with Lotus Traveler, my Nokia has proven to be an outstanding device, and a brilliant business tool.
Two new features in particular reduce the gap previously experienced by Nokia users compared with those of corporate smart-phone rival, RIM's Blackberry.
The ability to schedule synchronisation, and a new Lotus Name Lookup are enhancements to the existing feature-set.

Scheduling Synchronisation
Until now, the Lotus Traveler client installed on S60 was an on/off affair, with an automatic option to disable synch when reaching a battery threshold level. Now with the latest release of Traveler for S60, the user can choose "peak" and "off-peak" synchronisation times and methods.
The new synch options are accessed from within the Traveler synch client by choosing Options -> Settings, as shown at figure 1:

Figure 1: the new Options menu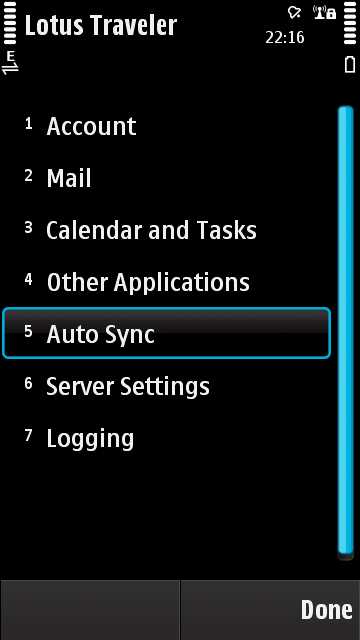 The user selects Auto Sync, and is presented with the new Synch menu, as shown at figure 2:

Figure 2: The new Synch menu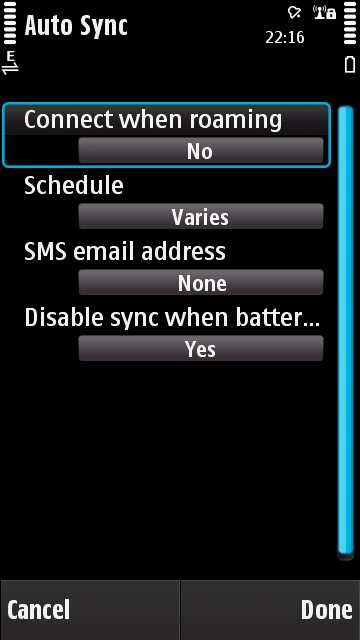 The Schedule features may be customised by choosing the Schedule option from the Synch menu, as shown at figure 3:

Figure 3: The Synch Schedule menu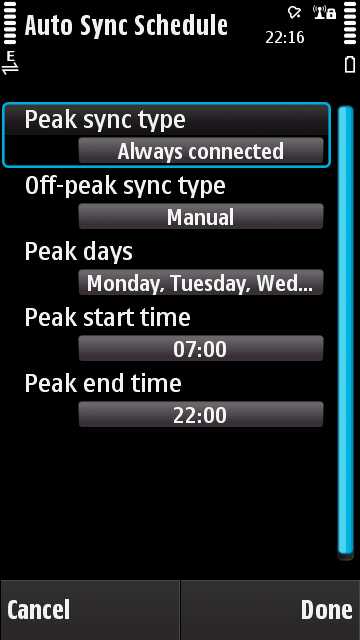 Peak Days and Times may be configured from this menu, in addition to the connection type (Manual, Always Connected, or Every...).
With this new feature, users no longer have to remember to enable or disable Auto Synch, the client takes care of the process automatically.

Lotus Name Lookup
Until now, Nokia users had a choice of copying corporate contacts to their Personal Address Book (contacts) or relying on their corporate directory/CRM application providing a web-interface that was accessible through the devices browser to find contact details.
Now, the Lotus Name Lookup allows users to search their IBM Lotus Domino Directory, or - as I discovered to my delight - their IBM Lotus Notes based CRM contacts enabled through Directory Assistance.
Figure 4 shows the new Lotus Name Lookup application on my N97's home screen;

Figure 4: the Lotus Name Lookup icon
Launching the new Lotus Name Lookup client presents the user with a prompt to "Enter name to lookup:" as shown at figure 5;

Figure 5: Lotus Name Lookup, enter name screen:
The user types all, or any part of the required contact's details, and the Lotus Name Lookup client searches the Domino server's contacts for a match, as shown at figure 6; search results.

Figure 6: Lotus Name Lookup, search results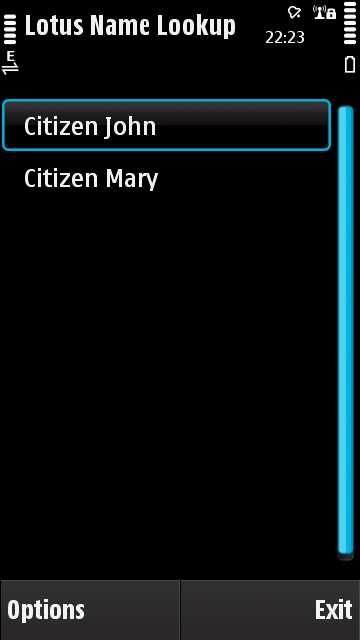 Selecting an option from the search results displays the contacts details, as shown at figure 7.

Figure 7: Lotus Name Lookup contact details: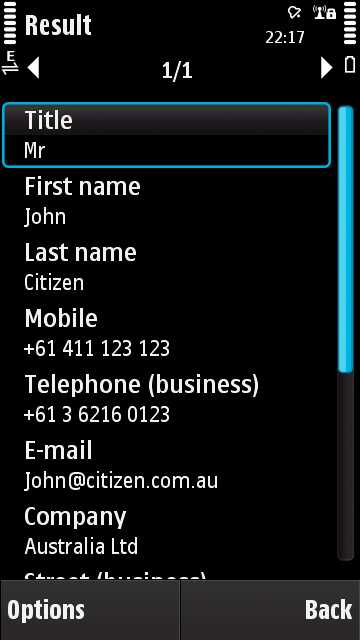 By choosing the OPTIONS menu from the search result screen, the user can then call, email, or sms the contact using the details presented on the screen, as shown in figure 8.

Figure 8: Contact Options, email address selected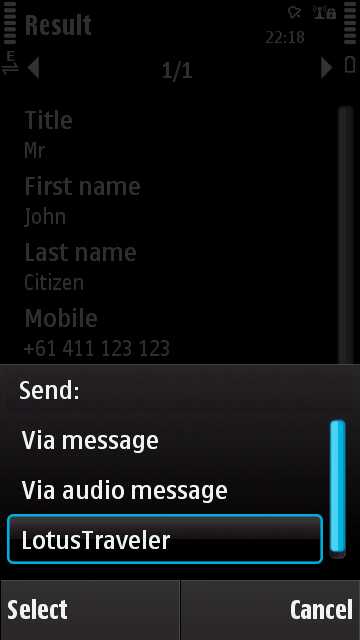 If the user clicks one of the Contact's phone numbers before choosing OPTIONS, Call, SMS and "Save to Contacts" features are used, as shown in figure 9,

Figure 9: Contact Options, Phone number selected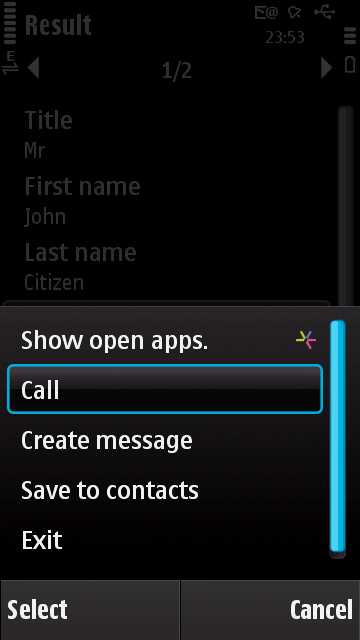 As already mentioned, the great thing about this new feature is the user no longer has to synchronise or copy contacts from their corporate directory or CRM to their device using Lotus Notes, before synching through Traveler to have those contacts details available when out of the office.

Summary:
Two great new features bring a feel of completeness to the Traveler feature-set on Nokia. I no longer have to rely on my CRM's synch capabilities to copy contacts to my personal address book before synching them to my device. I have been able to delete hundreds of contacts from my Personal Address Book, which has freed vast amounts of storage space on my N97 and as a result: improved it's performance.
Not having to remember to turn off Auto synch every night has also thrilled my wife - who is no longer informed that I have new email in the middle of the night after I forgot to disable it.
For those organisations using Lotus Notes/Domino who have not yet implemented Blackberry for their users, Lotus Traveler is a compelling addition to your Domino infrastructure, Especially when considering the mobile device platforms that Traveler supports (Windows, Nokia, iThing, Android) and it's cost - did I mention that it's
FREE!
Oh, and yes I have written this entry from the point of view of a Nokia user - I will write shortly about our experiences with the new
ANDROID
support that is also available in Traveler 8.5.2.
Finally, enhanced Administrative features also make it easier with Traveler 8.5.2 for Administrators to control "lost" devices. You know I had to test it out, and yes, I wiped my N97 clean :-)