Mat Newman
October 30 2014 00:24:42
Remember the absolutely awesome Google Chrome Extension for IBM Connections that I wrote about a little while ago? No? Ok - go refresh yourself on it
HERE
(Link:
http://www.matnewman.com/webs/personal/matblog.nsf/dx/ibm-connections-search-plugin-for-chrome-browser
)
You're back. Now for the good stuff. Did you know that this extension has a hidden feature that will create a link for you from an IBM Connections site THAT WILL OPEN IN THE CONNECTIONS MOBILE APP and not a browser?
Yep! A link you can email or share, that will open in the CONNECTIONS MOBILE APP :-)
What I didn't know at the time, but have now been enlightened to it's inclusion by the developer -
Romain Lienard
- is that the extension contains a VERY neat hidden feature that will enable you to create a link from the currently open IBM Connections page in a browser, which you can then share.
This is especially useful for calendar entries and including file resources that will subsequently end up on a mobile users IBM Notes Traveler Calendar or Email (or any other Mobile email client), but of course, can be used to link to anything in Connections, and will then provide a mobile user the ability to open the link in the IBM Connections mobile app - COOL!
There are a couple of steps to set it up, which are pretty easy:
1. Right-Click the IBM Connections extension icon, then choose "Manage"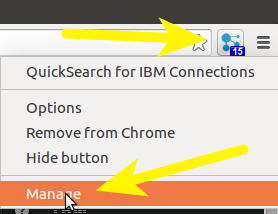 2. Click the "Options" link in the IBM Connections extension section

3. Click the link "Manage Short-cuts"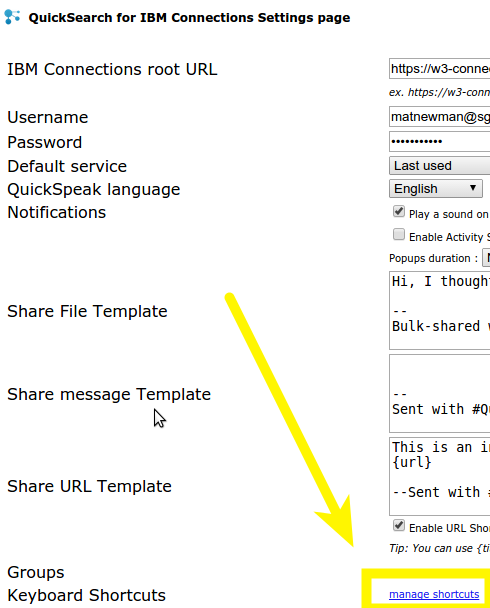 4. Add a Short-Cut keyboard combination to "Add the current URL to the Mobilizer Queue" (Note: I used "Ctrl+M")
5. Add a Short-Cut keyboard combination to "
Open the URL Mobilizer assistant to help you turn connections links into mobile links
" (Note: I used "Ctrl+Shift+M")
6. Click OK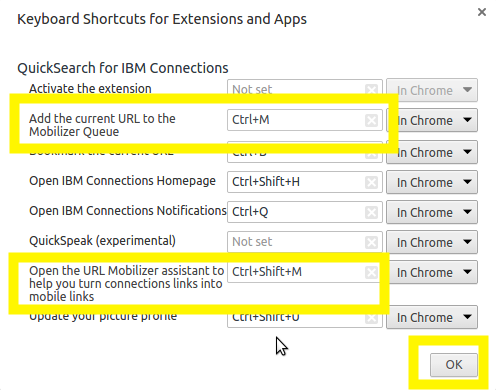 7. Click "Save Settings"
That's it, ready? Let's use it ....
1. Use the keyboard Short-cut you specified at step 5 in the previous section (I used Ctrl+Shift+M) to launch the Extension page in it's own Tab,
2. Go back to IBM Connections, navigate to the Connections resource you want to link to (eg: File, Wiki, Forum, Activity, Profile, etc),
3. Now use the keyboard short-cut from step 4 in the previous section to capture that URL (Ctrl+M)
4. Go back to the extension tab and VOILA! The mobile link you can now copy and paste anywhere which includes both a
BROWSER
and IBM Connections
MOBILE APPLICATION
link!
You can keep the Extension Tab open while you keep on pressing (In my case "Ctrl+M") to capture additional links in the same session, in case you want to create something like your own newletter with both Mobile and App friendly links!
Thanks Romain, an AWESOME tip!
Enjoy!