Mat Newman
February 28 2012 23:09:59
A client informed me the other day that Outlook was better than Lotus Notes because one can colour-code their Calendar entries in Outlook by Category.
Challenge AK...Septed!
Admittedly, this feature is NOT in native Lotus Notes, but - as you know - Lotus Notes can do
anything
, so a couple of modifications to the standard Calendar and ...
voila
!: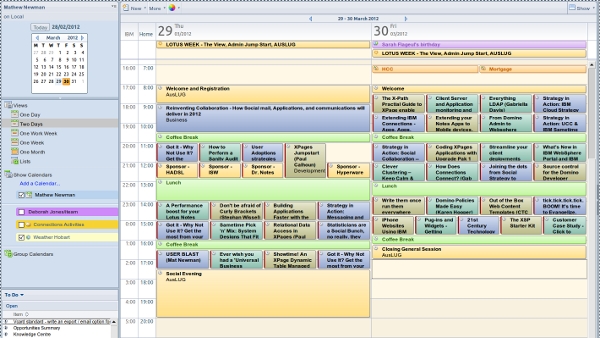 Colour Coded Calendar entries in Lotus Notes, By Category. Easy.
As you may have guessed from the above image, I was planning the
AusLUG
agenda the other evening, and found this feature to be particularly useful. Having the ability to have so many Calendar entries displayed on the screen at one time and identified by a Calendar Category, rather than by entry type certainly made them easy to identify. Let's hope this feature makes it into the core product some time soon.
In the meantime, this tip shows you how to implement Colour Coded Calendar Entries inside Lotus Notes. Enjoy :-)


(BTW - this works all the way back to Lotus Notes 7)
The ability to customise Lotus Notes so
easily
is
definitely
one of the things that makes Lotus Notes
BETTER
than Outlook!