Mat Newman
April 23 2012 12:28:51
Wandering around the Qantas lounges last week it was obvious that Nokia's market share in Australia is declining - as it is in other parts of the world - with the most visible device being the obligatory iPhone. My own device preference remains the
Nokia E7
, mainly due to the excellent Telephone capabilities (it
is
a Phone after all), in addition to the form factor; including a large physical keyboard, and the flip-up screen, which I really like working with. The hardware is just as important to me as the OS, which in the case of Symbian, has menu's on every screen providing an array of choices and a really nice 'hold' feature (similar to a right-click) that allows me to easily action most items in a list.
Over the last few days Symbian Belle - the latest iteration of Nokia's Symbian based operating system - was made available for users in Australia. There are still a few model phone's for which the update is unavailable due to carrier specific implementations of the operating system, but for those with unlocked devices you should be able to access the update from within the device settings, for others you can check your availability here: http://europe.nokia.com/find-products/nokia-belle-update/nokia-belle-update-availability
Obviously the first thing I did after the update
wiped many of my installed applications
(beware of this one!) was to put IBM Lotus Traveler and IBM Sametime back on my device. Traveler installed without a hitch, but none of the versions of Sametime I have for Symbian (8 through to 8.5.2) are compatible with 'Belle'. Each simply refused to install with an invalid certificate option. I will be attempting this again over the next few days to see what is required to have the 'Nokia E-Series' Sametime client working on my Nokia E-7 running 'Belle'.
Most of my applications reinstalled with the latest updates and versions specific for 'Belle' from the '
My Apps
' link inside the Nokia '
Store
' (formerly '
Ovi Store
' - look for the same icon, without Ovi in it's description). As I have mentioned before, the inclusion of 'My Apps' in the Nokia store makes it really easy to get apps back on to your device if you ever need to wipe it, or move to a new Nokia (Symbian) device.
First impressions; the new features I found that deserve a big thumbs-up:
The Notifications pull-down,
The

vastly

improved on-screen keyboard,
Better multi-tasking and faster application navigation screens,
Simplified and better organised menu's,
Home screen icons (across 6 home-screens now instead of 3) have text descriptions on them, great when many of these are web-site bookmarks
Better organisation of options screens.
What seemed to be more difficult:
Switching between profiles,
Enabling Battery 'Power Saving' mode,
Opening 'Messaging' (where the IBM Lotus Traveler folders live) no longer goes to the 'Folders' view, it goes straight to conversations.
Switching between profiles:
In the base install, the only visible way to switch profiles is to open the "Notifications' screen by pulling down from the top menu, and using the single toggle option for 'Silent'. After a little playing around, if you add the 'Profile' widget to one of your home screens, it will give you the option to easily switch to the default profiles. Beware! A few of the default profiles you may be used to have been removed in 'Belle', where the choices are now:
General,
Silent,
Meeting,
Offline

Enabling Batter 'Power Saving' mode:
Jump onto the Store and search for 'Nokia Battery Monitor'. An excellent little app that makes the switch into power saving mode quick and easy, while also providing a plethora of options on battery optimisation and information about usage and projected time remaining while using a number of core applications.


Opening messaging defaults to 'Conversations' (SMS message) view:
Go to applications, either by using the main button, or the new button on the bottom menu, and hold on any application icon to get the choice to 'Add to Home Screen'. Adding Lotus Notes Traveler Mail, Contacts Look up, etc, will put the icon on the current home screen and touching it goes straight to the Lotus Traveler folders in the Messaging application.


What I didn't like:
The new sounds and tones are distinctively made with some sort of electronic 'xylophone'. These were all
very
quickly replaced.


Some Screen Shots: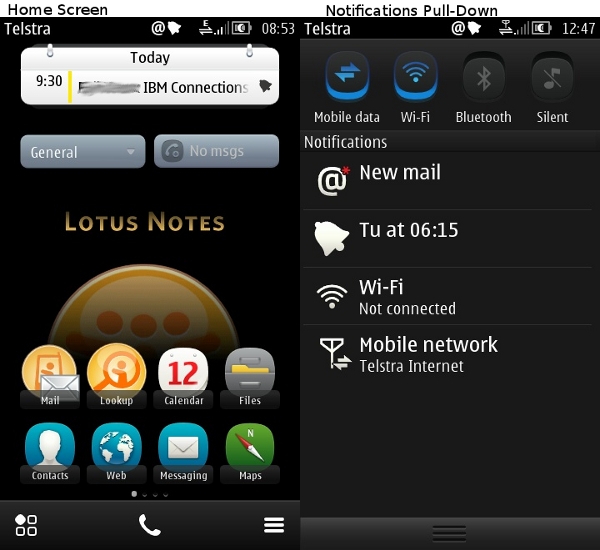 The Verdict:
A great update for Symbian devices, including late model E and N series Nokia's. Overall a better, easier layout to navigate through, with most options now more accessible through the notifications pull-down (with the exception of those listed above), more home screens means more widgets, and less wading through menu's for apps, the phone itself seems generally more responsive, faster and better at multi-tasking.
Beware:
battery life is affected dramatically the more 'live' widgets you include on those extra home screens!
(Make sure you get the Nokia Batter Monitor from the Store)
If you have a device which supports Symbian 'Belle', I would recommend upgrading as soon as you can.