Mat Newman
December 8 2011 13:38:41
One of the questions that came up during last weeks Domino Admin Boot-camp was regarding ACL's on new databases.
The Admin in question wanted to know how to automatically include a standard group in the ACL of all new databases based on a Template.
Like most things Notes/Domino, the solution is pretty simple. Just add the entry to the Template's ACL, but include it in square brackets, ie: [YourStandardGroup]
From the
FILES
tab of the
Domino Administrator
client, Choose to show
Templates Only
, right-click the template you wish to modify and choose
Access Control -> Manage
.
With the ACL open, Add the group name you would like included in all new databases. Again; make sure you enclose the group name in Square Brackets
[
YourStandardGroup
]
, then just select the ACL level and rights that you want that group to have by default.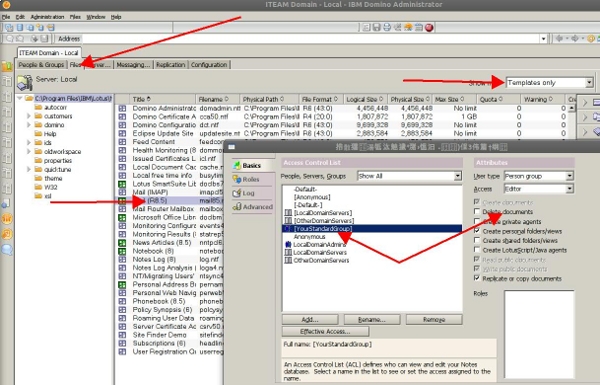 From now on, every new database created based on that template will have it's ACL automatically populated with the entries you put in the Template's ACL that are enclosed in [SquareBrackets].
Enjoy :-)