Mat Newman
March 12 2012 13:37:27
Had configured Lotus Protector for a customer, and was showing them how to enter the Admin page and make some modifications.
The client didn't have Java installed, so we pulled the latest release from java.com, only to discover that none of our changes could be saved from his machine. That's when we found this support technote on the IBM Site:
http://www-01.ibm.com/support/docview.wss?uid=swg21473125
Key thing here:

All attempts to save configuration changes are ending up with the Java error 'error writing policy'....

Solution A: Downgrade Java on the machine where you want to manage Lotus Protector to Java 1.6.0_23 (or older)

Downgrade Java (Oracle have done a
WONDERFUL
job on their site making you now register to get older versions of JRE's BTW) and all is good again.
BTW: For anyone who has ever complained about the way Lotus Notes works, try the following Java Dialog: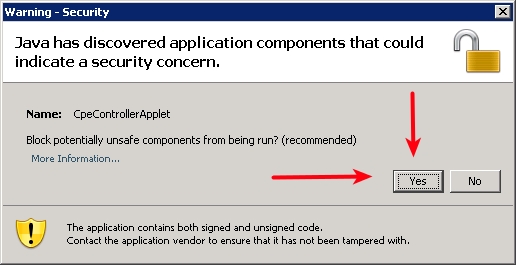 Hitting the default option by clicking "Yes" or pressing the Enter key DISABLES the java applet, meaning you CAN'T Admin the Lotus Protector server! Doh!