Mat Newman
June 9 2010 23:00:00
I really do LOVE
Apple
for deciding to restrict the capabilities of the microbrowsers on their smaller devices.
I don't own an iThing. I gave the
iPod
I won in our
Footy Tipping competition
to my wife, and then bought her an
iPhone
for her birthday, so I still have an opportunity to play with them when I feel the need.
But this post isn't about the devices that Apple has released in the last couple of years, but about the effect those devices have had on the way companies develop their web-sites. Specifically, I am thrilled that many organisations are catering to the plug-in restrictions (such as flash) the smaller devices such as
iPod touch
and
iPhone
have within their embedded browsers, as well as their lack of screen real estate.
Due to the success of these devices, many organisations have either redesigned their web-sites, or created dedicated mini-sites to cater to iPod and
iPhone
users.
As a result, there are a plethora of "
Applications
" (yes - iThing users - some of your "
Apps
" are
JUST
web-sites, in case you didn't know!) that have been designed to be "smaller faster, and more maneuverable" (oh - sorry,
Michael Ironside
from
Top-Gun
moment there) than their fully-featured counterparts. The result:
PERFECT LOTUS NOTES SIDE-BAR WIDGETS!
I discovered this almost by accident a couple of months ago while using my online banking site. They had just started promoting their shiny new "
iPhone
" web-site which quote:
"
** ANZ Internet Banking for iPhone or iPod touch is currently only available for use with Apple iPhone or iPod touch. 'iPhone' and 'iPod Touch' are trademarks of Apple Inc. U.S and other countries.
"
What a load of bunkum. Hit the ANZ web-site on an iPhone (
http://www.anz.com.au
) and you just get redirected to:
http://www.anz.com.au/mobilelanding/default.asp
Hit
ANZ
with any other browser, and you get the normal multi-media, slow to load, hit log in, pop-up, log-in, popup telling you last time you were there, continue, ahhhh - there's my online banking ... site!
However - manually type the iPhone redirect address into any browser, and it takes you to the same light, fast, no pop-up, user friendly, beautifully designed, simple iThing only mini-site.
By the way
ANZ
, it works perfectly on my Nokia N97 and in Windows Mobile and in Firefox, Chrome, Safari and Internet Explorer on PC ... not just on iPhone or iPod!
Then the eureka moment - I DONT have to use my bookmarks to log into online banking anymore - I'll just throw it into my Notes side-bar!
Figure 1: ANZ iThing banking in my Notes side-bar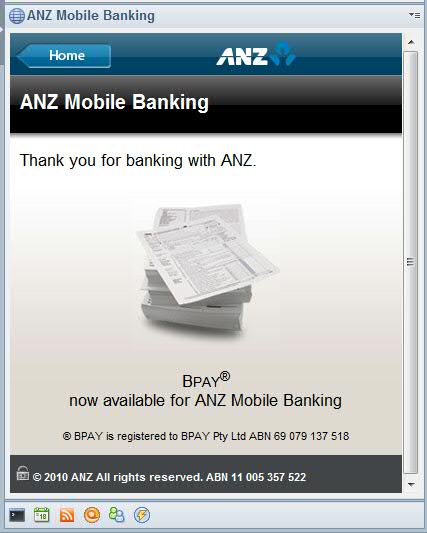 As you can see in Figure 1, the iThing banking site is the PERFECT size for the Notes side-bar, it reduces the time it takes to log-in to the full online banking site, as well as being simple, and functional.
Since then, I have added loads of sites that have been optimised for iThingy's into my Notes side-bar. It's a pretty easy process:
Open "My Widgets",
Choose the "Menu" -> "Configure a widget from..." -> "A Web Page"

Browse the Web, or enter the web-site address, Next
Choose "This web page". Next
Preview. Next
Change the title (if required), Next
Finish
You now have the web-site configured in your side-bar, you can either double-click the icon to open it, or right-click and "Open in ..." -> "Sidebar Panel" to have it appear as mine does in Figure 1, above.
Banking, News, Weather, Sport, etc, etc...
So again, THANK YOU APPLE, you've helped make Lotus Notes even BETTER!