Mat Newman
September 28 2010 15:32:25
Have just read the specs for the soon to be released
Blackberry Playbook
.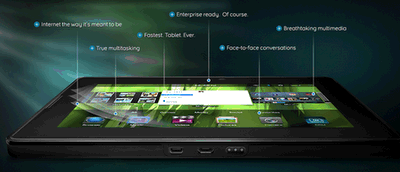 Key features and specifications of the BlackBerry PlayBook:
BlackBerry Tablet OS with support for symmetric multiprocessing
Ultra thin and portable:
Weighs less than a pound (approximately 0.9 lb or 400g)
Measures 5.1"x7.6"x0.4" (130mm x 193mm x 10mm)
7" LCD, 1024 x 600, WSVGA, capacitive touch screen with full multi-touch and gesture support
Audio playback: MP3, AAC, WMA
HDMI video output
Wi-Fi – 802.11 a/b/g/n
Bluetooth 2.1 + EDR
Connectors: microHDMI, microUSB, charging contacts
1 GHz dual-core processor
1 GB RAM
Video playback: 1080p HD Video, H.264, MPEG, DivX, WMV
Dual HD cameras (3 MP front facing, 5 MP rear facing), supports 1080p HD video recording
Open, flexible application platform with support for WebKit/HTML-5, Adobe Flash Player 10.1, Adobe Mobile AIR, Adobe Reader, POSIX, OpenGL, Java
Availability and price detail of Blackberry Play Book:
The BlackBerry PlayBook is expected to be available in retail outlets in the USA in early 2011 and will be available in other countries in the second quarter of 2011.
Initial Thoughts:
WOW!
Full web-kit support means that there won't be many web-sites that this thing won't render, and the inclusion of flash and java means a true PC-like browsing experience on a mobile tablet. Link that in with the 'unlimited' browsing capabilities of a typical Blackberry configuration (connected through a BES on a dedicated Blackberry plan) and you don't need to worry too much about excess data usage charges.
The multi-processing capabilities are another key factor, you will be able to execute two tasks simultaneously (the example quoted is 'watching a movie and browsing the web').
But the real killer: no dictated 'callers must both be using an iThing on WiFi' to do video calling. As someone who travels frequently and uses
Skype
to video-call my family back home, this was one thing that left me bemused about the iPhone.
First device I've seen that could justly claim to be an iPad killer.