Mat Newman
December 19 2018 12:45:00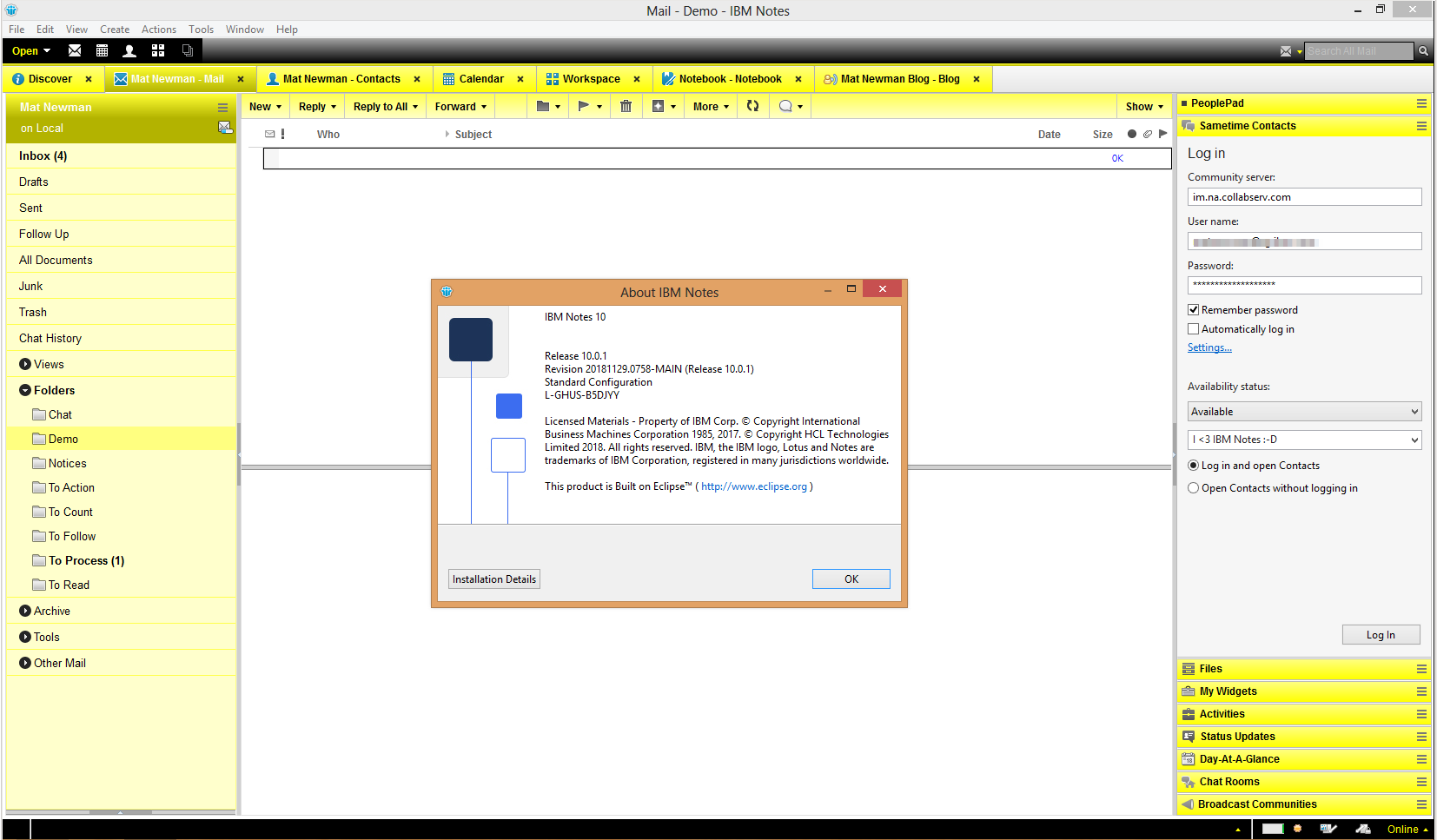 As many of us prepare to spend some time with loved ones, friends, and family, IBM and HCL have provided us with another reason to celebrate these holidays: The release of Notes, Domino, Traveler, and Verse v10.0.1. (Well, Verse is technically Verse On Premises 1.0.6.)
One of the fantastic things I love about the relationship we have with HCL through our IP partnership is the speed with which innovation is now happening within the Domino portfolio. It was only a few weeks ago that we delivered v10 on the 10/10 and on our promise to you, our customers and partners, on the journey that we set out upon last year beginning with Project Saphire, continuing through the #Domino2025 JAMs, and on our vision for the future with #DominoForever. Many of you are by now are aware of the agreement entered into
earlier this month
about IBM's intention to sell components of the Collaboration Portfolio (along with other software) to HCL, a transaction that is expected to be complete by the middle of next year. As an IBM employee, I am not at liberty to comment on the deal, nor can I comment on HCL's future intentions for the portfolio. Until the agreement passes regulatory approvals and is completed, your relationship with IBM is unchanged and as I am sure you have heard: It's
"Business As Usual"
.
My
personal opinion
is that - should the deal go ahead as agreed - the Collaboration Portfolio will be in extremely good hands moving forward. Comments that have been made publically by HCL executives clearly demonstrate a commitment to the future of the products that those of us in the Yellowverse know and love so well. One only has to look at the effort and investment HCL has already made in the portfolio covered by the existing IP agreement to realise that there is renewed vigour in the platform. The customers that I have introduced to the HCL Lab Advocacy programme are already benefitting from the advice provided to them by their HCL Lab Advocates, and of course, many of you have already engaged with HCL Support Staff when raising cases for assistance (AKA: PMR's). Additionally, since Connections is also included in the agreement; I would love to see that product back in the hands of
Jason Gary
, who was responsible for evolving the "Pink" vision for the product while he was at IBM. Given everything that has happened during the past 12 months, I personally feel supremely confident in the future for the portfolio.
Anyway; back to v10.0.1!
Two of the things I know many of you have been asking about in
Notes 10 Client for Mac
, and the
Dominio AppDev Pack
, are big highlights and both are included with this release.
There are lots of things to love about the latest releases in the Domino Product Family, included below are some of the highlights, and links to the "What's New" pages so that you can drill down into the individual capabilities to get more details.

DOMINO:

Domino AppDev Pack is now EGA

Automatic Notes client updates
You no longer have to rely on third-party products to automate deployment of new versions and updates of IBM Notes®. Instead, you can enable Auto Update (AUT) servers to deploy Notes updates automatically.

MarvelClient Essentials IBM Notes management solution
The IBM Notes management solution MarvelClient Essentials from panagenda is provided with IBM Notes and Domino 10.0.1.

New SSL cipher configuration
The SSL cipher options in the Security tab of Internet Site documents or in the Ports tab of Server documents now clearly list all of the supported SSL ciphers, in order of strength, for easy selection.
Details
: https://www.ibm.com/support/knowledgecenter/SSKTMJ_10.0.1/admin/whats_new_in_domino_10.0.1.html

NOTES:
Notes 10.0.1 is now available on the Mac platform. Notes 10.0.1 on the Mac supports the new features introduced in IBM Notes 10.0.
In Notes 10.0.1, you can create a one-time signature at the time you reply to or forward a message. As you reply to or forward a message, select Signature > Reply And Forward Message Signature and then create the signature.
Details
: https://www.ibm.com/support/knowledgecenter/en/SSKTWP_10.0.1/fram_what_s_new_in_ibm_notes_10.0.1.html

VERSE ON PREMISES:
Import events from an internet calendar
You can now import single and repeat events from an internet calendar into your IBM Verse calendar. For example, import events from your Google calendar.
Choose the language to use with Verse
Choose the language to use in IBM Verse.
Enhancements to the calendar event design preview
In IBM Verse 1.0.6, the calendar event design preview feature (introduced in Verse 1.0.5) is enhanced to support:
Domino on AIX supported
IBM Verse 1.0.6 can now be run on Domino® AIX® servers.
Details
: https://www.ibm.com/support/knowledgecenter/SS4RQV_1.0.6/whats_new/whats_new_in_version_1.0.6_.html
My colleague Thomas Hampel has already shared the details and part numbers where you can get access to this release on Passport Advantage: https://blog.thomashampel.com/blog/tomcat2000.nsf/dx/v10.0.1-has-arrived.htm
As you can see from the Banner, I've already installed and been playing with the updated Notes 10.0.1 client, and I like it's responsiveness so far.
That's a nice early Christmas gift for a Domino Guy :-D
DOMINO V11 JAMs
Finally, there is a really good reason to go over and visit the DominoForever site and read all about the
Domino V11 JAMs
that we have coming up in January where we have provided local contacts in a city near you when you can attend and have your say on the future direction of the Domino Product Family.
Enjoy!