Mat Newman
July 1 2020 19:52:14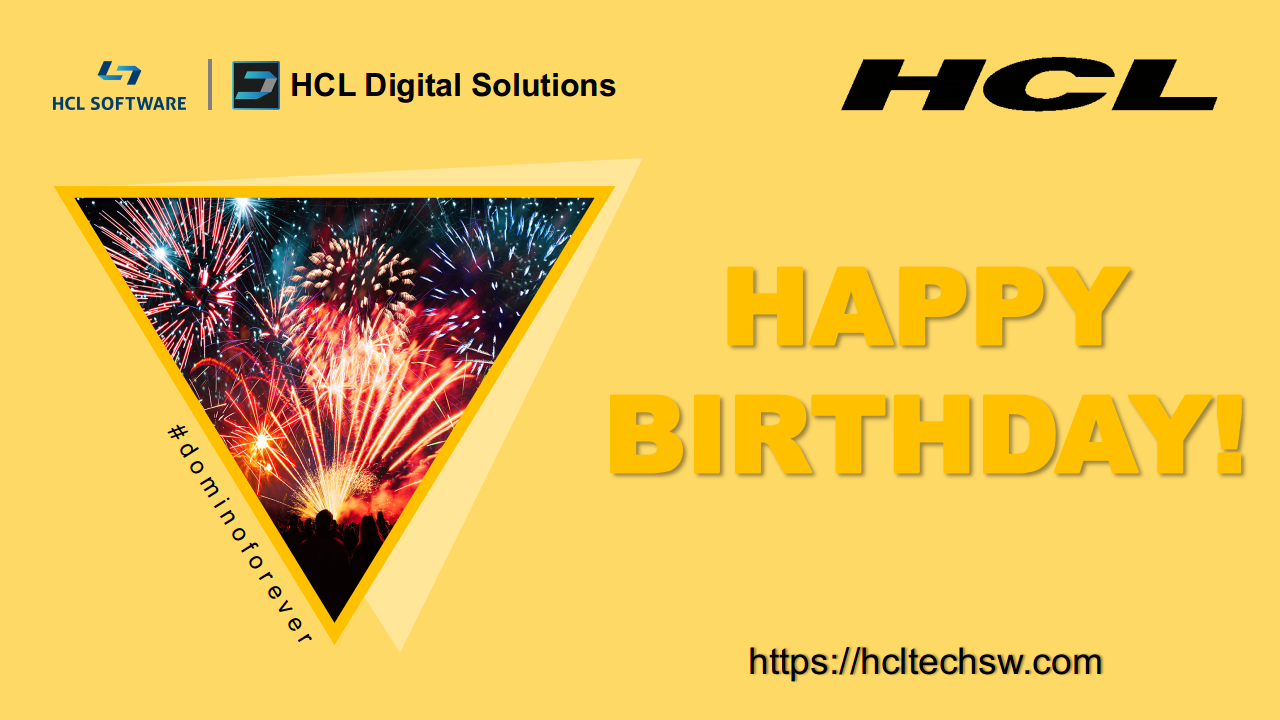 Happy 1
st
Birthday HCL Software
I cannot believe it was a year ago today - on the First of July, 2019 - that I walked into HCL's office in Singapore with my friend and renowned guru Stephan Wissel (notessensei), as we became HCL Software's first new employees in Asia Pacific.
I had been included in the transition from IBM to HCL Software as part of Project Sagan. Months earlier, I had been advised that I was "in-scope" and was part of the acquisition. Stephan had been hired by Jason Gary to run a new Development Lab in Manila, and he has since hired hundreds of new developers who work on HCL's software applications.
For me, the first few weeks were incredibly daunting as I was almost single-handedly running the business in Asia Pacific while the reset of the team slowly came on board. We hired experts in the collaboration business, many of them my former colleagues from IBM. Like me, they all have years of experience in our brand, strong customer relationships, and were excited to continue their journey with our products.
EXCITED!
That's one word for it 😀
Everyone - customers, partners, IBMers - had seen what HCL could do in the year prior with the incredible engagement that began with our world-wide Jams, and how those ideas literally went from Post-Its to Product in only a few months with the release of Domino 10.
With the acquisition by HCL, we all knew the products we know and love would receive the full attention they deserve, a breath of fresh air, and a commitment to innovation.
And WOW - has that happened.
Some of you joined us at our first HCL Software Factory Tour at our headquarters in Chelmsford, MA, USA. You heard from our leaders the commitment to the platform HCL was making. I will NEVER forget what Richard Jefts said during his introduction: "The shackles are off, it's all ours now, and we can do what we want!"
Just think about what has been achieved by our first Birthday. All new HCL branded versions of all of our software applications: Notes/Domino, Nomad, Verse, Sametime, Connections, Docs, Workflow, LEAP, SAP Connector, and Digital Experience. And all-new 1.0 launches of Domino Volt, and Safelinx (the product previously known as Lotus Mobile Connect). And that's just in the Digital Solutions portfolio. Our colleagues in Appscan, Bigfix, Commerce, and Unica have all experienced the same thing.
The response from our customers and partners has been nothing short of amazing. They can see our commitment to the platforms they know and love. The roadmap for our entire product portfolio has never been stronger. And it's not just the products that have improved, the way we deal with our customers through our Customer Success Managers, and through Programmes such as Lab Advocacy, have completely changed the way we communicate and collaborate with our customers and partners.
And what has excited me even more are the customers that we didn't even know we had who are re-investing in the platform. On Monday this week I received an enquiry from a customer who wanted to upgrade to the latest version of Notes/Domino, because they had seen all of the new features and functionality and wanted to take advantage of that. Their last licence purchase was in September
2004! (Now THAT is ROI!)
There is hardly a week that goes by that we have a situation like that, and when I talk to those customers the story is always the same. "We never paid any attention to it, because it sits in the corner and just runs. We never have any problems with it."
Yep. This stuff just works.
I am energised every day during meetings with our customers and partners as we discuss their business related issues, and how HCL Software can help them. I speak with our product managers, support, and developers all the time when faced with customer issues and I am never surprised when they respond: "Sure, we can do that." Nothing exemplifies that "can do" attitude more than last week, when a customer posted a question in a Facebook group, and within hours not only did that customer have the solution, it was fully documented on our web-site as a technote.
You have heard me say this many times over the past year: "I started with Lotus Notes Release 2, in 1992, and I have NEVER been as excited about our products as I am NOW!"
Happy 1st Birthday HCL Software.
And Thank You. (HUG) 🤗