Mat Newman
February 1 2018 19:20:58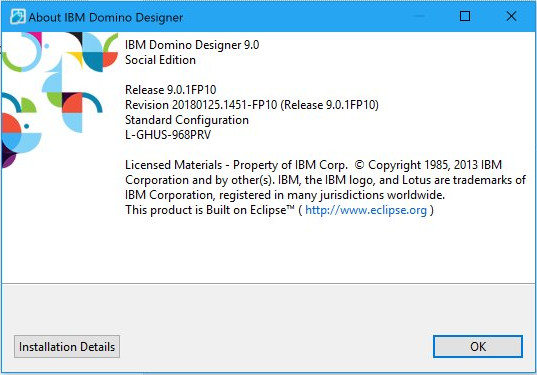 There are some great new enhancements delivered with the latest release of Notes and Domino with IBM's continued commitment to deliver upgrades, enhancements and fixes with our "Feature Pack" delivery Model. I am particularly excited about the Eclipse platform modernisation and the inclusion of Sametime 9.0.1 as a default installation option.
Notably, this Feature Pack paves the way for the upcoming IBM Notes, Domino and Sametime
Version 10
releases coming later this year.
Highlights to note in this latest release:
New Features in IBM Notes/Domino® 9.0.1 Social Edition Feature Pack 10
1) The JVM in Designer is Upgraded to use 1.8 at compile time
With this new upgrade, you can launch Designer client and leverage Java 1.8 compile time features in building applications. For full compatibility, apps compiled in FP10 should be deployed on Notes or Domino FP10 and higher. Java apps may run on Notes/Domino 9.0.1 FP8 and higher as that release upgrade to Java 1.8 runtime. However, Application best practice is to compile with the lowest common denominator to the client/server version deployed.
2) Eclipse Platform Upgraded to 4.6.2 - The 9.0.1 FP10 platform is upgraded from Eclipse 3.4.2 to Eclipse 4.6.2. This includes SWT, OSGi, Jface and other re-lated Eclipse plugins. Notes, Designer, Embedded Sametime, and Connections Plugins now leverage Eclipse 4.6.2. The Domino server uses the OSGi bundles from Eclipse 4.6.2 for servlet and XPages access.
3) Embedded Sametime Upgraded To 9.0.1 By Default
The default version of the Embedded Sametime in the Notes Client has been upgraded to the 9.0.1 (previously 8.5.2), which eliminates the need for an add-on installer for Sametime.
4) The GSKit libraries for are upgraded on all client/server platforms except IBM i to Version 8.0.50.84 (which contains FIPS Certified ICC Version: 8.4.1.0) for both client & server. GSKit is used for FIPs support, AES , 1024+ RSA, and Diffie-Hellman. IBM i will be evaluated for a future release.
5) Japanese User Interface Update
An optional Japanese User Interface update includes fixes for high-impact localization defects. The 'IBM Notes Client 9.0.1 FP10 Japanese User Interface Update' requires 9.0.1 Japanese Client/Japanese MUI + FP10.
6) Add-on Installer for Notes CCM (Connections Content Manager)
An add-on installer for Notes CCM eliminates the need for special hotfixes but does require 9.0.1 FP10. This optional add-on allows a Notes client to show Libraries from CCM for use with email and calendar.
Note: The Notes CCM now supports the Dutch language in addition to previously supported languages For more details on CCM, see https://www.ibm.com/us-en/marketplace/connections-content-management.
You can read all about the detailed fixes and other enhancements
HERE
in the
Announcement Letter
.
Upgrade Time :-D
Enjoy!